A commercial Au catalyst for useage in the mini-type mine CO removal rescuers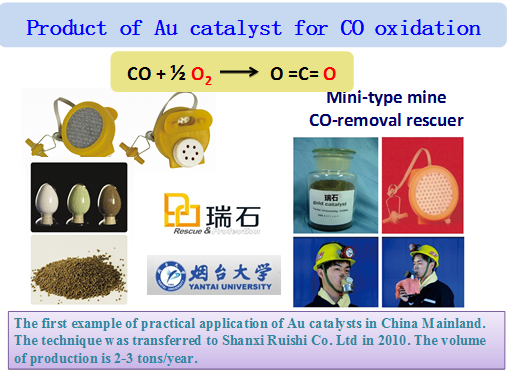 On the basis of 16 years' R&D experience, in 2006, the Institute of Applied Catalysis directed by Prof. Lidun An (now serves as a consultant of Au-SDARC) in Yantai University, Shandong, China has developed a novel stable gold catalyst (YD-2) with proprietary intellectual property rights (China invent patents: ZL 00 1 22829.3; ZL 03 138786.1; ZL 2004 1 0024509.6 and WO 03/043732 A1; WO 2006/007774 A1). After technique transferred, the catalyst was formally produced by Shanxi Ruishi Co. Ltd with an annual production volume of 2-3 tons (http://www.sxrescue.com). This is a first example of commercialized application of Au catalysts in China mainland. In addition, a mini-type mine self-rescuer for CO removal (model ZL60) developed by Shandong Yunzhou Jinkexing Co. Ltd. via using YD-2 catalyst has obtained national certificate for mine safety in Oct. 2009, see the document of MLA 090007 below.
An expert team leaded by academia Liwu Lin evaluated the technique and commented as follows: the technique solved the problem on the stability of the highly dispersed nanogold particles, formed a set of techniques with proprietary intellectual property rights, and showed obvious academic innovation. The achievement shows significant military, social and finical benefits, commonly meeting the international standard. The stability of the catalyst is in advanced level in worldwide.The catalyst can be applied to chemical defense forces, fire protection and civil (coal mine safety self-rescuer, sports or entertainment venues, high-rise buildings or hotel fire escape mask, etc.), bringing a huge revolution to the mask industry.
The patent of the second generation Au catalysts with a comparable catalytic performance but lower cost has been obtained the national invention patent notification of acceptance in Nov. 7 14, 2009 (ZL2009 1 0019345.0).
PS: Certificate for mine safety: MLA 090007